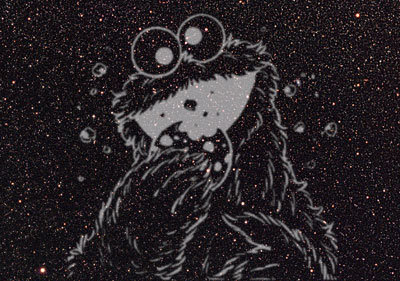 Many moons ago my dad clipped a healthy oatmeal raisin cookie recipe from the lifestyle pages of the
local paper
. The clipping resolutely stuck to the fridge in my parent's house, a not-too-subtle hint for someone (anyone!) to make the recipe. Well, the lover of
Dad's oatmeal raisin cookies
(known as my dad) is now officially happy.
I had a job interview thingy all day today and so to de-stress this evening I enjoyed baking these bickies and all I can say is, who said the Star Phoenix is only good for outing my sister's new relationships? :) The recipe came up trumps with this homemade and fairly healthy rendition. If you find yourself in need a little relaxation, consider some baking. Afterall, nothin' says lovin' . . .
By the way, I am finally getting really into
Arcade Fire
and officially loving them. Yes, I know I'm a bit behind in waiting until they are a worldwide sensation to get on board, but better late than neaver right? Anyway, without further adieu, the cookie recipe . . .
Oatmeal Cookies
2/3 cup canola oil
2/3 cup granulated white sugar
1 egg, lightly beaten
2 tbsp apple juice
1 tsp vanilla
1 1/2 cups quick cooking rolled oats
1 cup all purpose flour
1/2 cup whole wheat flour
1 tsp baking soda
1 tsp cinnamon
3/4 cup raisins
In a large bowl, beat together oil and sugars until well combined and smooth. Beat in the egg, apple juice and vanilla. In a separate bowl, mix together the rolled oats, flours, soda, cinnamon and raisins, then transfer to the wet mixture and stir until well blended. Chill in the refrigerator at least one hour. Preheat oven to 350 F. Place roundish balls of the chilled dough on a cookie sheet lined with greaseproof or waxed paper. Bake cookies about 10 minutes or until lightly browned (oh yes, and my not so secret secret to chewy cookie goodness that I discovered while baking 350 cookies a day at treeplanting - undercook ever so slightly and let them finish off while cooling! Genius.)
And the best part you ask? Being able to take them over to my mom and dad's flat while still warm and enjoy them together with a cup of tea. Awwww . . .